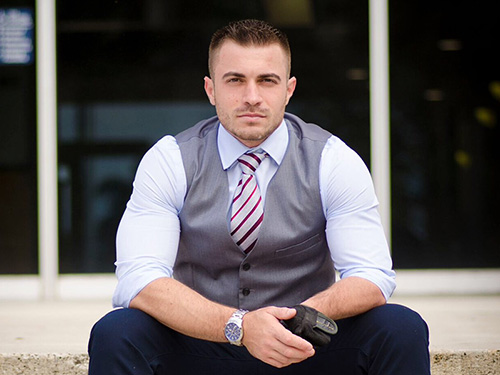 Who I am?
Keynote speaker, youth motivational speaker, and diabetic speaker
Chris Ruden is known around the world for his accomplishments in and out of the fitness and nutrition community.
Born with only 1 hand and developing type 1 diabetes later in life, Chris is the definition of perseverance and inspiration, letting nothing stop him from reaching his potential and helping others unlock their true potential. Read more about Chris' amazing story here.
People of all ages love hearing chris' inspiring, hard-hitting, and humorous talks that cause people to make positive changes in their personal and professional lives. Some of his most widely-sought after topics are:
Limitations are self imposed Keynote (individual or team building skills)
Diversity, anxiety, adversity, body image and embracing who you are and where you are while overcoming your own limitations
Diabetes and living with disease or disability
Fitness & nutrition workshops
Medical Technology related to prosthetics & diabetes
Chris has traveled all across the united states, speaking for organizations like American Diabetes Association, I Am Adaptive and JDRF to inspire both youth and adults to overcome all limitations they may face. He keeps the audience on the edge of their seats and constantly engaged. There will emotions, applause, education, and most importantly, there will be a lasting belief that each person can succeed no matter what "limitation" may present itself.
Whether you are a school or university that wants to inspire your students to succeed or a company looking to motivate employees to produce, Chris will surely change each audience member's perspective on life in a positive, empowering way.
Press Coverage:
Chris has been featured in many online publications like beyond type1 and Muscle & Strength as well as Right This Minute national news.
Social media
Chris has over 25,000 followers on Instagram ( @ChrisRuden), 15,000 likes on Facebook (/ChrisRudenSpeaks) and over 200,000 on youtube.
How to book Chris for your upcoming event
Email Chris@ChrisRuden.com